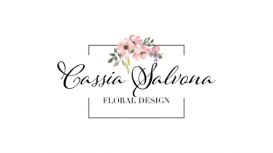 Growing up in the small seaside town of Kinghorn in Fife, I spent most of my childhood outdoors foraging in the fields and making daisy chains... I always had my own vision and energy to try things differently but it was in 2017 when I started Cassia Salvona Floral Design that I finally had the chance to bring my ideas to life. My work is mostly characterised by romance and elegance, from vintage delicacy through to more modern, sleek designs but it's hugely important to me that I see the personalities of those I'm working with, within my designs.
My goal in every design is for viewers to be able to see their hosts character in my work. Every event should be and is created around those I'm working with and that's one of my passions, getting people right. My floral journey started back in 2013, I had just arrived by from travelling Australia with my sister, Stephanie. I was keen to start work wherever and landed my first junior floristry/sales job. It was a surprise to me how much I enjoyed learning about some of the hundreds of flowers out there. It was less of a surprise to realise I loved learning what certain flowers did and didn't like...
---
Reviews and Ratings
We do not have any reviews about Cassia Salvona Floral Design available right now.